Globetrotter Travel Pillow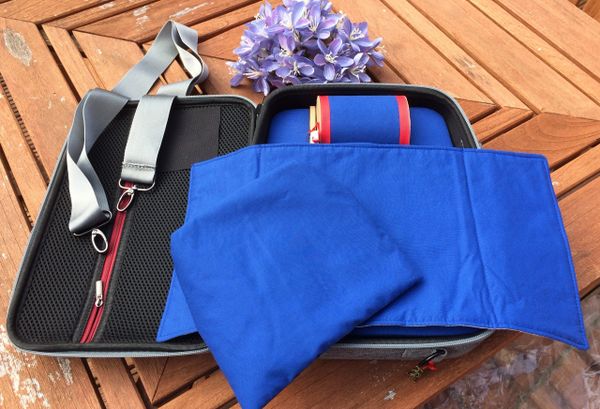 Globetrotter Travel Pillow
The Globetrotter Travel Pillow is a fully functioning roller pillow in a hard case.
There are many designs of travel pillow but the difference with the Globetrotter travel pillow is there are no complicated buttons, velcro or pinning down bobbins - the pillow is designed to be a comfortable but compact lace making pillow, which is quick and easy to get out or pack away when you are on your travels.

Simply unzip the case, fold out the padded working cloth, place the soft pillow rest underneath the hard case to get a comfortable working angle and your ready to make lace.
Packing away is just as easy, place the soft pillow wedge over your bobbins and flatten out, fold over the edges of the padded working cloth, close the lid and zip up the case. Your bobbins are held firmly in place until your ready to start again.
Added features of the Globetrotter are that you don't need small travel bobbins, you can use your normal bobbins. There is a handy storage compartment in the lid, and built in pin cushions either side of the roller. The roller measures 10cm in width.
This travel pillow can be used on your lap, or on a table, and is just the right size for making lace on a long car or coach trip.

The Globetrotter measures approx 30cm x 25cm when zipped together, and weighs just 1 kilo. It comes with an adjustable shoulder strap so you can carry the pillow easily along with any luggage or bags.
***Please note bobbins,lace and pricking are for display purposes and not included with the pillow***

Reviews