Globetrotter Travel Pillow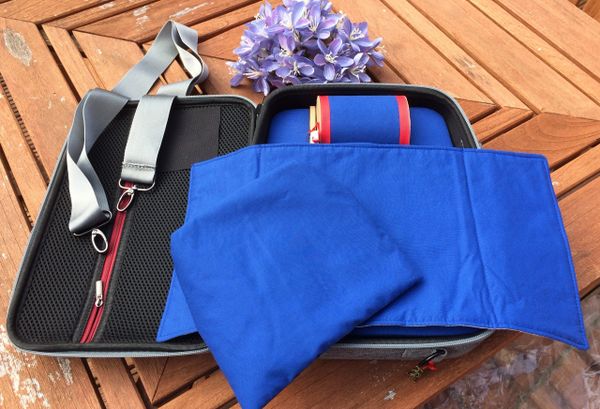 Globetrotter Travel Pillow
The Globetrotter Travel Pillow is a fully functioning roller pillow in a hard case.
There are many designs of travel pillow but the difference with the Globetrotter travel pillow is there are no complicated buttons, velcro or pinning down bobbins - the pillow is designed to be a comfortable but compact lace making pillow, which is quick and easy to get out or pack away when you are on your travels.

Simply unzip the case, fold out the padded working cloth, place the soft pillow rest underneath the hard case to get a comfortable working angle and your ready to make lace.
Packing away is just as easy, place the soft pillow wedge over your bobbins and flatten out, fold over the edges of the padded working cloth, close the lid and zip up the case. Your bobbins are held firmly in place until your ready to start again.
Added features of the Globetrotter are that you don't need small travel bobbins, you can use your normal bobbins. There is a handy storage compartment in the lid, and built in pin cushions either side of the roller. The roller measures 10cm in width.
This travel pillow can be used on your lap, or on a table, and is just the right size for making lace on a long car or coach trip.

The Globetrotter measures approx 32cm x 23cm x 12 cm when zipped together, and weighs just 1 kilo. It comes with an adjustable shoulder strap so you can carry the pillow easily along with any luggage or bags.
Due to customer requests we have added an optional block pack for the Globetrotter. The shaped block fits in the space above the working area and lets you make small items that are not possible on a roller. The block is hand sewn and comes with 2 long pins to secure in place and an extra piece of velour to stick to the inside lid if you find your pins are getting caught in the pocket when the lid is closed.
If purchasing just the block pack use the first drop down box only or you will be charged an extra £5.00!

***Please note bobbins,lace and pricking are for display purposes and not included with the pillow***
Buying from outside the UK?

This item is available on Ebay and can be posted under the Global Shipping Programme. This means the item is posted to a UK shipping centre by us, and ebay take over and ship the item to you with full tracking. You are able to see the postage cost prior to purchase for your country and we have found that this is often a cheaper way to ship the item to you.
Click on the link for this item on Ebay Globetrotter Travel Pillow on Ebay
Reviews