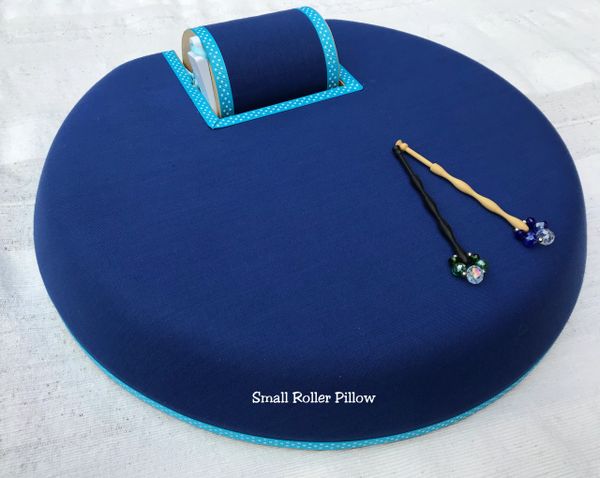 Harlequin Roller Pillows
All our lace pillows are hand made in our workshop in Southampton from a high performance foam - not polystyrene, Covered with a durable Royal Blue poly cotton material, they are supplied ready to use. 
We colour code the size of the roller pillows by the ribbon trim - 

Sky Blue - Small measures approx 15" at its widest point with a 4" roller
Apple Green - Large measures approx 20" at its widest point with a 5 1/2" roller

The rollers have a diameter of 3" with a circumference of approx 11" and is held in place with a simple rubber wedge.

Bobbins are for size reference only.
These pillows fit into the 20" and 15" round pillow bags.
Buying from outside the UK?
This item is available on Ebay and can be posted under the Global Shipping Programme. This means the item is posted to a UK shipping centre by us, and ebay take over and ship the item to you with full tracking. You are able to see the postage cost prior to purchase for your country and we have found that this is a much cheaper way to ship the item to you.
Click on the link for this item on Ebay
Roller Pillows on Ebay
Reviews