Torchon Beaded Bracelet Kits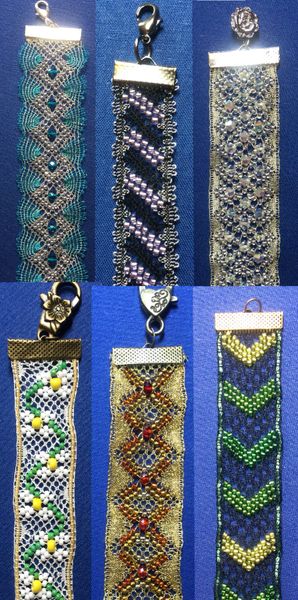 Torchon Beaded Bracelet Kits
These are original design by Harlequin Lace to make 6 beautiful beaded Torchon Bracelets
Each of the 6 original Torchon lace designs has starting instructions and colour working diagrams to help you achieve the best from these beautiful patterns.

Each kit contains instructions and colour printed 160gsm card pricking, all beads and fittings as described below and a small piece of beading mat to attach to your pillow -THE THREAD IS NOT INCLUDED but you will probably already have an equivalent thread as they are worked in common lace making threads. 

Full instructions for adding beads are included, as well as starting the lace and how to finish the bracelets ready to wear.
You will need to make the holes in the pricking but there is no drawing in as this is done already for you.
Blue and Silver Elegance Kit Contains - Instruction Booklet ~ Pricking ~ 5 grams 11/0 silver lined seed beads ~ 12 x 4mm crystal factet beads in blue ~ 1 pair 25mm ribbon end clamps ~ 1 set clasps ~ beading mat
Lavendar and Lace Kit contains - Instruction Booklet ~ Pricking ~ 4 grams 11/0 silver lined seed beads ~ 1 pair 15mm ribbon end clamps ~ 1 set clasps ~ beading mat
Anyone for Tennis? Kit contains - Instruction Booklet ~ Pricking ~ 11 grams 11/0 silver lined seed beads ~ 64 x 4mm crystal bicone facet beads ~ 1 pair 25mm ribbon end clamps ~ 1 set clasps ~ beading mat
Daisy Chain Kit Contains - Instruction Booklet ~ Pricking ~ 4 grams 11/0 white and green matt seed beads ~ 12 x 6/0 yellow sead beads ~ 1 metre of 1mm waxed necklace chord ~ 1 pair 25mm ribbon end clamps ~ 1 set clasps~beading mat
Sun-Kissed Kit Contains - Instruction Booklet ~ Pricking ~ 7 grams 11/0 silver lined seed beads in gold amber and orange ~ 10 x 4mm crystal rondelle facet beads ~ 1 pair 25mm ribbon end clamps ~ 1 set clasps ~ beading mat
Enchanting Greens Kit Contains - Instruction Booklet ~ Pricking ~ 6 grams 11/0 silver lined seed beads in lime, green and dark green ~ 1 metre 1mm satin chord in green ~ 1 pair 25mm ribbon end clamps ~ 1 set clasps ~ beading mat
Individual Bead Packs also available

These kits are taken from the book Torchon Beaded Bracelets by Harlequin Lace 

Please note - YOU ARE NOT PURCHASING THE FINISHED LACE BRACELETS
Reviews