'Lacemaker Under Instruction' Lace Making Starter Kit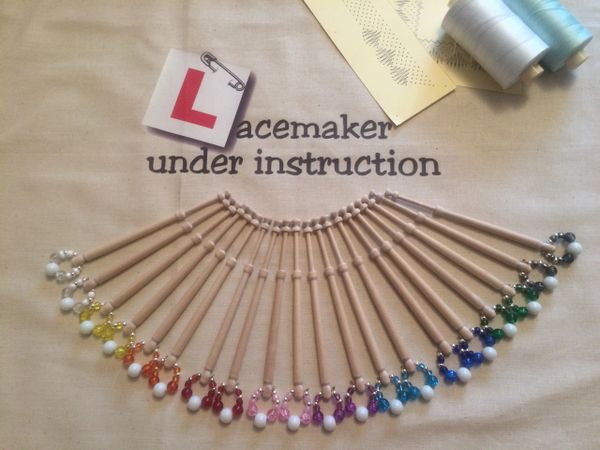 'Lacemaker Under Instruction' Lace Making Starter Kit
18" Round Pillow

14 pairs of wooden bobbins
Spangle pack
Instruction book
Pricking sheet
2 x Finca 40 lace making thread
Aluminium pricker and latch hook
Fine steel pins
Pin cushion
Berry pins
Cover cloth
Plastic coaster
Bookmark sleeve
Custom Print Cotton Bag
This comprehensive kit contains everything you will need to begin learning the traditional craft of bobbin lace making. The 24 page instruction book written by Sarah Duffy of Harlequin Lace is a tried and tested publication used to teach 1 day workshops in 'First Steps in Bobbin Lace'.

Unlike other lace making starter kits, this kits comes ready to start learning the basic stitches in lacemaking. 10 pairs of wooden bobbins are spangled ready for you to wind the thread onto, the pricking sheets are easy to understand and even the pricker comes with a needle in it!
Like all Harlequin Lace products, this is a high quality kit containing the same items that experienced lacemakers would use, and will set you up with the basic tools for you to continue after you have made the 2 sample pieces and 2 finished pieces of lace.

If you were to purchase the items individually they would cost you nearly £100, making this kit a wise investment for any aspiring lacemaker.
Please note the thread colour, bobbin style and pin cushion design may differ from that pictured, but are the same quality.

Buying from outside the UK?
This item is available on Ebay and can be posted under the Global Shipping Programme. This means the item is posted to a UK shipping centre by us, and ebay take over and ship the item to you with full tracking. You are able to see the postage cost prior to purchase for your country and we have found that this is often a cheaper way to ship the item to you.
Reviews