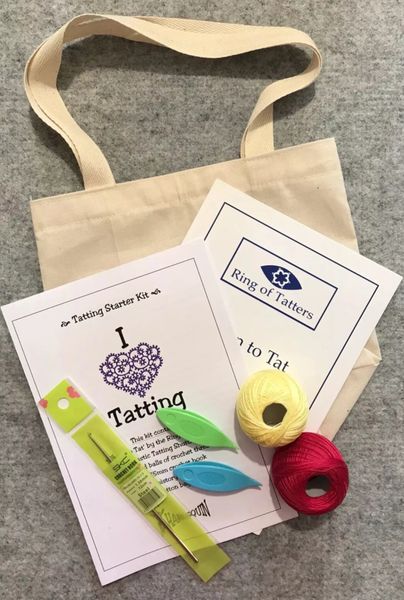 Tatting Starter Kit
This kit contains:

'Learn to Tat' by the Ring of Tatters

2 plastic Tatting Shuttles

2 coloured balls of crochet thread

Steel 1.25mm crochet hook

A brief history of Tatting

Cotton bag
The Ring of Tatters have kindly allowed Harlequin Lace to include their 'Learn to Tat' book in this starter kit. This 20 page booklet shows you in picture form and descriptive text the technique for tatting. There are several patterns for you to work also, and it explains how to read a tatting pattern in written and diagram form.
Unlike other tatting kits you get 2 different coloured tatting shuttles and 2 different coloured balls of Perle 8 thread, along with a steel crochet hook, and a handy cotton bag to keep your newly learnt craft in.
A brief history of tatting written by Sarah Duffy includes some useful websites to expand your tatting skills.
*Please note the colour of the thread and tatting shuttles will vary from those pictured.

Reviews